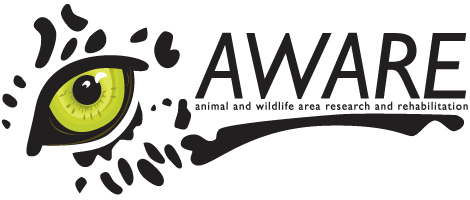 AWARE News 
 Victoria Falls Ndlovu Communal Area Spay Campaign
The AWARE Team recently returned from the Ndlovu Communal Area in Victoria Falls where another 61 animals were sterilised, and 453 were vaccinated, de-wormed and Frontlined. Several others were treated for health problems. We saw some of our skinniest and most anaemic animals to date on this campaign. Feral hotel cats were also trapped and treated.  Read more in October 2011 newsletter.
Matusadona Dehorning Operation
In a desperate bid to audit the Matusadona population and save the remaining black rhinos there, AWARE teamed up with Zambezi Society and SAVE Foundation in July 2011 for a comprehensive rhino dehorning operation led by AWARE veterinarians. Numbers were drastically lower than anticipated, and most of the week was spent flying around in frustration looking for more rhino. Pete Clemence subsequently ran a 3 week tracking training course in the area and could not find any more rhino than were spotted from the air. Read more in August 2011 newsletter. 
Kariba sterilisation campaign
 In early May the AWARE team visited Kariba town to perform another free sterilisation, vaccination and basic health care campaign for underprivileged dog and cat owners. Kariba town is right in the middle of a wildlife area and residents are concerned about the disappearance of local fauna due to the increasing dog and cat population. Surprisingly, the government Vet Department has only had a presence in the area for the last 3 years. The campaign was quieter than usual (perhaps due to the lack of advertising through the government vets which is the norm), with a total of 57 operations performed and a total of 200 vaccinations. Read more in May 2011 newsletter...
  Pete Clemence's Ranger Training underway
 AWARE is once again very proud to have facilitated the aggressive tracking and anti-poaching ranger training being undertaken by Pete and Bryce Clemence in National Parks Rhino Intensive Protection Zones throughout the country. We commend the Parks and Wildlife Management Authority for their firm stance taken against poaching this year, and full co-operation with this paramilitary training programme. Pete and Bryce started off in Matopos in April, and have just completed a second course in Sinamatella.We are sincerely grateful to SAVE Foundation for their funding of this programme. Read more in May 2011 newsletter..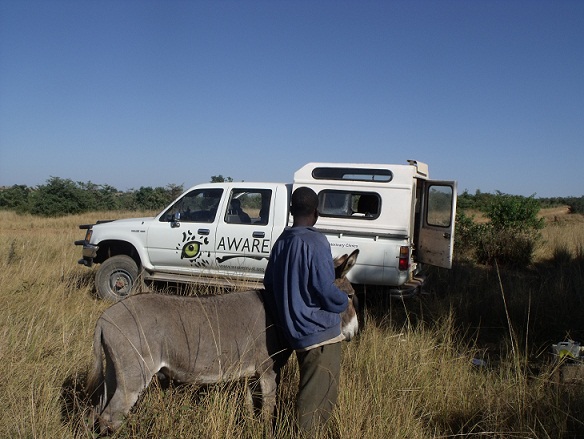 SPANA funded donkey clinics well received
Our donkey vet Erick Mutizhe spends two weeks every month travelling around rural areas of the country performing ambulatory donkey clinics. He generally treats 200 - 300 donkeys in a two week trip, administering preventative treatment (vaccinating against rabies, tetanus, and dipping and de-worming) and treating clinical cases. He also provides welfare awareness, educating owners about the importance of correct harnessing and weight bearing loads, and teaching them about regular hoof and dental checks. In his latest trip around the Matusadona area, Erick removed a snare from a donkey's foot. Read more in May 2011 newsletter.  

 Masvingo captive lions treated but still need help
The circumstances surrounding the welfare of  these lions are explained in the January and March 2011 newsletters. The latest update is that we have had a 5000 liter water tank delivered to the property as well as a kilometer of water pipes to connect the water. We have also had 5 steel sliding gates made to improve the pen access by workers. In discussions with PWMA it has been recommended that the park is de-stocked by about half the number of lions. We have found definite homes for 4, and a likely home for a further 10, however the translocation requires the written permission of the land owner, something we are chasing up at the moment. We hope to get this situation under more control in the very near future. 

Mana lioness treated for facial swelling
Keith and Lisa recently treated this lioness in Mana Pools. She had an enormous swelling on her face which turned out to be an organising haematoma, probably from a kick, which was lanced, drained and flushed. She was injected with a 2 week long cefovecin antibiotic and painkillers. She also had a defunct radiocollar left by a previous researcher removed. All this took place while her daughter and 3 cubs snarled and growled at us from a thicket less than 5 metres away. Read more in December 2010's newsletter. Also see other rehabilitation cases we have treated in Kariba in December's newsletter.
Malapati Sterilisation and Vaccination Campaign
The AWARE sterilisation team recently returned from Malapati, directly south of and adjacent to Gonarezhou National Park where they sterilised 68 dogs and 7 cats. 305 dogs were vaccinated using Merial's 7n1 plus rabies vaccine, and Frontlined and dewormed, following which Eric proceeded to Save Valley Conservancy to vaccinate a further 750 dogs. One suspected case of rabies was seen and euthanased, and the results are pending from the laboratory. In the same area Eric treated 99 donkeys for a variety of conditions including tetanus and a donkey with a broken leg which was euthanased. Read more in October's newsletter.    

National Parks Rhino Dehorned
In a Marwell Zimbabwe Trust project together with the Wildlife Veterinary Unit, AWARE and PWMA, 72 National Parks rhino have been dehorned so far this year in 4 different parks. Comprehensive dehorning reduces the incentive for poachers to enter an area, and drastically shifts the balance of the risk:benefit outcome to the poacher. The animals are also ear notched which makes it easier to identify and monitor these animals. Read more in the July and October 2010 Newsletter.

Chipinge ranger anti-poaching training starts
August kicked off a new focus for AWARE - training National Parks rangers in rhino Intensive Protection Zones. The courses are run by ex military Grade A Tracking Instructor Pete Clemence and his son Bryce. The rangers are put through a basic selection course which teaches them how to track, use a GPS, map-read, handle weapons and how to engage in a combat situation. Rangers who pass the basic course will move on to intermediate and advanced courses. The intended result is an elite rhino unit capable of eliminating the threat of armed poachers. Read more in October 2010's newsletter.