Elephants Increasingly in Need of Assistance 
In September, as part of the Zimbabwe Elephant Nursery (ZEN) team, the AWARE Vets pulled off two airlift rescues of orphaned elephant calves. "Sizi", an 18 month old female calf was noticed by Vanessa Bristow, abandoned and alone, and getting thinner and weaker over a two week period, on Sentinel Ranch in the Beitbridge area. Dr Keith Dutlow and Anton Newall flew down in an aircraft paid for by Wild is Life/ZEN, and performed the tricky task of darting the little ele, and keeping her sedated just enough to make the two hour flight back to her new home with Roxy Danckwerts at ZEN. She has settled in well with her new herd mates.
Kariba Baby, sadly, was less fortunate. He was reported by Debbie Ottman of KAWFT, severely injured with an open ulnar (elbow) fracture after being hit by a speeding car. His mother must have been fraught by the decision to leave him, but her own thirst must have got the better of her. Dr Lisa Marabini, Dr Keith Dutlow and Anton once again flew to Kariba as part of ZEN and anaesthetised the little guy to bring him home. The decision was made to operate in an attempt to save Kariba Baby's life. The fracture wound was horribly infected all the way to the bone, and he was septicaemic and acidotic. AWARE sought advice from the top equine specialists in South Africa and UK, and urgently assembled a team of experienced surgeons consisting of Dr Karl van Laeren, Dr Ant Donohoe, and human orthopaedic surgeon Dr Akimu Mageza, with Keith and Lisa doing the anaesthetic. Anton and Dr Jane Howes also assisted. Equipment was urgently needed and AWARE approached a local hospital for assistance who, without hesitation, went to incredible lengths to procure the necessary equipment from human orthopaedic supplier Andrew Davison of Admed Pvt Ltd and Dr Vera. Orthopaedic surgeon, Dr Valentine Mandizvidza, who was attending to his human patients at the hospital, immediately came to our aid with advice, made numerous phone calls and kindly arranged for his colleague and orthopaedic surgeon Dr. Mageza to assist with the operation. 
The anaesthetic – the second in 48 hours - was erratic from the start. 3 hours into the operation little Kariba Baby's body simply gave up, leaving the team devastated at the loss. AWARE would like to thank every individual who assisted with this rescue attempt and all those who kept Kariba Baby in their thoughts and prayers.  It was amazing to see how human surgeons, vets and the dedicated team at Wild is Life pulled together to help save this precious little elephant.  Extended thanks go to AMI Hospital, theatre sister Benhilda and to Liz Gordon as well as the human orthopaedic surgeons.  We have all learnt a huge amount from this experience and will be better informed next time.  RIP Kariba Baby.
This incident again illustrates the countless perils that elephants all though Africa are facing due to climate change, poaching and competition for resources. A sinister new scourge seems to be emerging in Zimbabwe and that is poisoning of elephants by means of cyanide. AWARE received tissue samples from 2 elephants from KAWFT in Kariba that had died in close proximity to the municipal dump. Disturbingly, when these tissue were analysed at University of Zimbabwe they were found to be positive for cyanide. We deplore this cowardly and wanton desecration of our wildlife heritage, and we will do everything we possibly can to halt this destruction.  
On a happy note, the elephant treated with the snare wound at Chirundu in the July newsletter, "Lucky", was seen by Nic and Iona Coetzee at Jecha Fishing Camp last week, looking really well and walking without a limp.
We appeal to the global public to be proactively involved in taking a stand and contributing to the fight against mass extinction of these amazing creatures. Please donate: https://www.paypal.com/cgi-bin/webscr?cmd=_s-xclick&hosted_button_id=JZAPVWE6D7Z7Q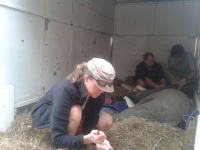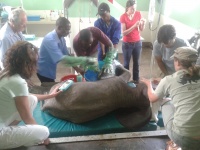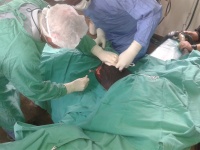 Rabies & Sterilisation Campaign- AWARE Returns to Shashe
On 26th September the AWARE team travelled to Shashe communal lands in the Greater Mapungubwe Trans Frontier Conservation Area, the corner of Zimbabwe which borders both Botswana and South Africa at the confluence of the Limpopo and Shashe rivers. This area is the site of AWARE's original ground-breaking sterilisation campaign performed back in 2009 and the Team wished to return to an area that we had operated in previously to check what effect, if any, our original campaign had had.  Painted dogs pass through this wildlife area and domestic dogs in the area have not received any government rabies vaccinations making it crucial to prevent rabies outbreak and other diseases such as canine distemper from occurring.
Shashe is also the area the AWARE/SPANA alliance is carrying out a community development project for donkey owners, supporting the villagers to make and sell welfare compliant donkey harnesses, and build enclosures to keep the donkeys safe from hyaenas at night. Timothy Mpofu, the Community Development Officer, had spread the word about the sterilisation campaign well, and we were fully subscribed every day, performing between 14 and 17 spays and neuters daily. By the end of the campaign we had safely operated on 73 animals, and vaccinated nearly 300 dogs. All dogs received de-wormer, and Frontline or Certifect for fleas and ticks, and many dogs were treated for various ailments.
To date, AWARE has spayed and neutered 624 dogs and vaccinated 6377 on a pro bono basis, but this is the tip of the ice burg and much more needs to be done.  We are delighted to have secured AWARE's first mobile clinic secured through funds raised by local Zimbabwean supporters and Brian, one of our dedicated supporters and volunteers.  The mobile clinic will enable AWARE to be in the field much more frequently and we are aiming to reach 1000 spays/neuters by the end of 2016, and over 10000 vaccinations.  With the arrival of the mobile clinic due early next year, AWARE appeals to our supporters for your further assistance.  In order to run the mobile clinic initially we will need to secure employment of at least one local vet plus an extension vet and anticipate the monthly costs to be approximately $5,000 per month.  We anticipate the mobile clinic being available early in 2016 and we appeal to our supporters to donate towards running costs using this link in order for us to utilise the clinic immediately it arrives. 
As always, grateful thanks to all those who made this campaign possible and successful – AWARE Directors and volunteer vets Dr Keith Dutlow and Dr Lisa Marabini, benefactor Brian Rodgers and dog carer Lizzie Carrasco, Dr Vin Ramlaul and his surgical assistant Elliot who consistently give up two weeks every year to come and spay village dogs, volunteer vet Dr Eugene Mabhika, and Dr Erick Mutizhe who stayed an extra 2 days to do the final post op checks, volunteer helpers Nadia Marabini and Manny Carrasco, Timothy Mpofu and the Vet Department staff (Sinikiwe and Denmore), Chris and Tracey Hugill and Kenny for taking care of our catering needs and other camping logistics. Thanks also to Autoworld for the use of their Isuzu vehicle for the campaign, as well as all our supporters who have contributed towards helping the animals under AWARE's care.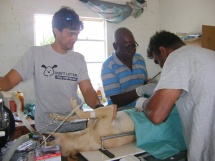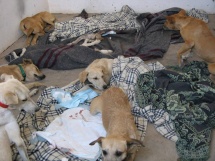 Important Education - Time Well Spent
 AWARE understands how vital community education is to the welfare of all animals and includes education in all its activities.  During the sterilization campaign, Tracey set off to Shashe Primary School with volunteer and husband Chris and two of our extremely hardworking volunteers, Brian and Manny, to run an education program made possible with donor assistance from In2Afrika. We were greeted by 738 excited, smiling and polite young children at the School.  Manny's speedy artistic skills kept the childrens' attention and participation well focused bringing much laughter and clapping as children received drawings to take home. Eager hands shot up to answer questions about the animals around them; firstly those animals who greatly assist their own livelihoods, such as their dogs, donkeys, goats, sheep and cattle. The children easily took on board that all animals have a right to basic needs such as water, food, shelter and, of course, love! One little girl was happy to imitate her dog to educate on how to carry and handle a tired or injured dog, creating stiff legged excitement from her and hearty laughter from her piers – perhaps it will help the children remember the lesson. Through questioning, the children shared their own experiences with wildlife, bringing to the fore the worrying human/wildlife conflict as human populations explode into wildlife areas. The children mentioned thieving baboons, problems with hyena and regular raiding of their precious crops. Manny brought life and character to wildlife through his drawings while Tracey carefully explained the right that wildlife has to roam in freedom, unharmed, how man must respect their space and the consequences of depletion of wildlife through poaching. Simple methods to help protect hardworking domestic animals by simply moving them into a boma or safe enclosure overnight were discussed. Responsibility for Zimbabwe's environment generally and the need to clean up rubbish carelessly discarded by humans, particularly the many polystyrene containers, cans and plastic and the health implications of such waste to domestic animals and wildlife attempting to digest such litter.  AWARE closed the talk with a reminder to protect and take responsibility for all life, trees and flora to ensure that these young people have something to pass on to their own children. The School Head was handed books for teachers to read to their classes as a donation from In2Africa and "Rosie The Elephant" books by Janet Kaschula. Thanks to In2Africa and Janet for your kind donations to assist AWARE in providing vital education to rural communities and thanks to the Headmaster,Teachers and Students at Shashe Primary School for your very warm welcome.  This was time well spent in delightful company of these children.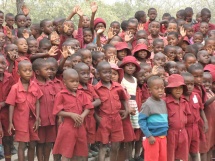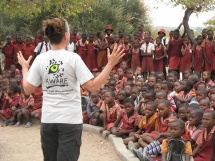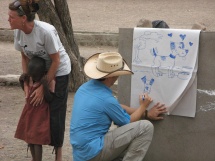 Troubles in Paradise
There were great tensions for one of the National Parks black rhino stations that AWARE supports.  Due to a long period of under-estimations by the electricity supply company, the station suddenly received an astronomical electricity bill and disconnection was imminent. While it may be hard for people from another country to imagine the responsibility of looking after some of the world's rarest mammals, and understand the frustration of having to contend with such a petty issue, this was a major concern for the rangers and AWARE.  Without electricity there is no way to charge radios, therefore no way for the Area Manager to communicate with his rangers, and no possible effective means of anti-poaching. Pretty distressing especially since there was some credible intelligence that poachers were on their way to the park. To make matters worse, when Lisa studied the recently downloaded footage from the camer traps she detected a photo of a rhino with a snare around his neck! 
The rangers  immediately began scouring the difficult terrain to get a positive visual on rhino "Shinga", and check the status of the snare round his neck, as well as hunting the suspected poachers. Despite AWARE's efforts to communicate with officials to negotiate an amnesty for the station on their electricity bill, we had no success.  Understanding the dire risk to these rhino through the loss of radio-comms in this area, AWARE purchased a solar installation to supply this essential need. We thank Save African Rhino Foundation who kindly paid half the costs to purchase this equipment.
We were delighted to receive notice from the station that the rangers and police support in the area had arrested two suspected rhino poachers and recovered a .458 rifle with 6 rounds of ammunition, possibly preventing the death of yet another precious rhino. Thankfully the rangers were able to get a good sighting of  Shinga  with the assistance of LRT trackers and Shinga had somehow manage to dislodge the snare himself and is in good health.
We commend the huge effort being displayed by these Parks rangers under the very trying and difficult economic circumstances we are facing in Zimbabwe. The needs to protect these magnificent creatures really are endless. We urgently need 80 Energiser lithium AA batteries for the cameras, rations for the rangers, sleeping bags, tents, backpack and cash for intelligence operations. It should not be underestimated the risks these rangers take, risks that are life threatening, not just from armed poachers but from the creatures, both large and small, they serve to protect.  In order to assist them AWARE targets specific needs of the Parks themselves as well as the Rangers and we appeal for funds or donations in kind.  If you are able to help in any way please contact tracey@awaretrust.org.  AWARE attempts to provide support, in kind, to National Park's rangers where it is clear they are doing all they can to protect our valuable wildlife.  For many years AWARE has worked together with the men and woman on the ground, those who have the, at times, unenviable and dangerous task of ensuring protection of the precious species in their care.  AWARE assures it donors that your funds will be appropriately and considerately used to support the Rangers directly and the wildlife in their care.
AWARE Donors Provide Transport for Rangers 
In response to a critical shortage of transport noted when we were in Tashinga to treat an injured elephant in July, AWARE took the step of donating two brand new Yamaha XTZ 125cc off road motorbikes to the Park. Three rangers from the area, Arnold Makwangari, Herbert Makiyi, and Emmanuel Mafuka, received training at the Riders International Academy for Vehicle Management at Donnybrook in Harare to learn how to handle the bikes in rough terrain, as well as learn how to service and maintain them. AWARE also funded this exercise. We hope the bikes will increase anti-poaching patrol coverage, improve ration re-supplies for extended patrols, help pursue poachers in the event of an incursion, and help to monitor animals, especially injured ones awaiting treatment.response their care.  AWARE thanks all our donors who made this purchase possible.  We do feel this is the way forward to assist with anti poaching and monitoring and would like to provide more motorbikes to designated Parks.  If you are willing to assist please donate to https://www.paypal.com/cgi-bin/webscr?cmd=_s-xclick&hosted_button_id=9R3GX62KQVNXC or contact tracey@awaretrust.org for banking details.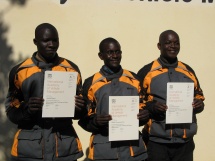 Fundraising: Rhino & Ele AWAREness Day
 On 13th September AWARE organised and hosted its third annual fundraising Rhino & Elephant AWAREness Day.  We were delighted to be joined by Hollywood Actress Shannon Elizabeth (most known for her role in American Pie and Scary Movie).  Shannon, through her Animal Avengers site, raised funds to assist three organisations, AWARE being chosen as one such organisation to benefit.  Shannon also agreed to attend AWARE's event and we thank Shannon for all her efforts to help Zimbabwe's wildlife. Through her donation, Shannon has managed to purchase two elephant satellite tracking collars for AWARE which we will use in 2016 to track injured elephants that we treat, to monitor their progress.  It is impossible for AWARE to thank  everyone who made this event a success as the response was overwhelming and no offence is meant - we remember you all.  Local companies came forward to provide sponsorship (ZOL Zimbabwe, Autoworld Zimbabwe, Rooneys and Davies Events to name just a few), local artists who performed live at the event giving the public a unique opportunity to see just how much talent Zimbabwe has.  The day was full of variety with performances from Tinashe Makura, Charles Summerfield, the AWARE Flashmob, Afrofit, Arts & Culture Department from the University of Zimbabwe, Let the Children Play, Ovation and Fab Fusion and DJ Ray & Jai as well as Joanne Cooper delighting us with her music from Johannesburg and contributing with donations from sales of her music.  Incredible assistance on all things technical, IT, photography and filming from Victor at Selpore, Roland of Sandawana Studios, Mike Wall Photograph and Tim Marks.  To everyone who participated and helped with this event and so willingly donated their incredible talents, skills  and personal time to AWARE, we are extremely grateful to you all and we are very proud or the way Zimbabwean's pulled together to support AWARE's continuing work with Rhino and Elephant protection and care.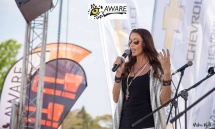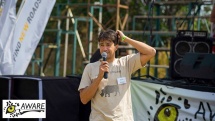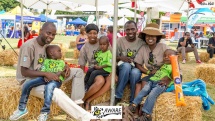 Thanks
AWARE thanks all its individual supporters, local companies and those abroad who provide sponsorship and goods in kind to assist with the preservation and protection of Zimbabwe's wildlife. Without donor support, AWARE would be physically unable to carry out any of its work and we give you all our heartfelt gratitude.  Please visit our Facebook page www.facebook.com/Aware-Trust-Zimbabwe.