As the searing heat of the October sun beats down upon us we are busy making the final preparations for our next sterilisation campaign in Machuchuta (in the Limpopo-Shashe TFCA, now renamed to Greater Mapungubwe TFCA). We must be crazy going into the Beitbridge province to work in November, but we tell ourselves it is safer than doing wildlife work at this time of year – dogs' body temperatures tend to drop when they are under anaesthetic, so the heat should not affect them too much. It will be a real initiation for AWARE's first paid employee, Ed Oelofse, who joined us at the beginning of September. Ed has been brought in as a veterinary assistant and Volunteer Manager, and we welcome her to the organisation. A big thank you to Medi-Vet P/L, who is sponsoring her salary.
Buffalo TB testing
August saw AWARE vets tagging onto a massive collaring operation of various different wildlife species in Hwange National Park funded by the French research organisation, Centre National de la Recherche Scientifique (CNRS). The vets were opportunistically collecting serum from buffalo and processing it for the testing of bovine tuberculosis. The results of this are not yet out.
Wild dog treated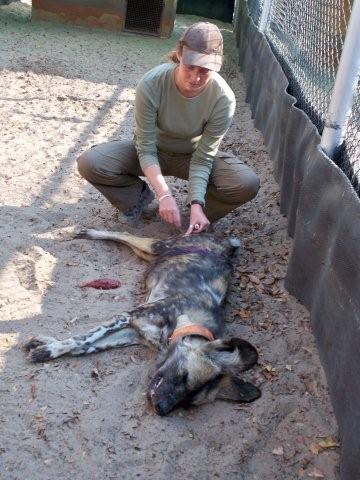 Whilst based at Main Camp the vets were asked by Esther van der Meer of the Painted Dog Project to look at a non-healing wound on the side of one of the wild dogs, Njiva. The dog was immobilised and the wound surgically explored and cleaned. The wound required another immobilisation by Esther a week later for further flushing. The dog was part of a newly formed release pack from rehabilitated animals which was subsequently released at the end of August (see www.painteddog.org for more on the dogs' release story).    
Third donkey clinic
At the end of August, the third of the SPANA funded donkey clinics was run in lower Gweru. The vets were accompanied by Inspector under the Prevention of Cruelty to Animals Act, Nadia Marabini. With the vegetable growing season starting, cruelty was re-emerging with 3 donkeys being treated for axe wounds and one donkey for burn wounds for 'stealing' vegetables. The owners of these donkeys are invariably not the perpetrators of the cruelty. They appear to genuinely care for their animals and were delighted when they each received a free copy of Cooper's 'Draught Animals in Zimbabwe' which details good husbandry and harnessing methods for both donkeys and oxen. A range of other conditions from eye problems to lameness were also attended to. A total of 34 owners with 65 donkeys regularly attend the clinics.
Rhino operations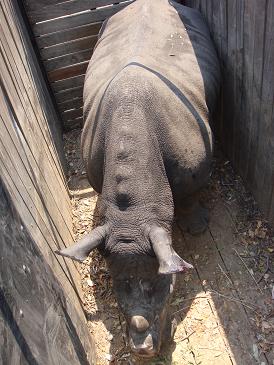 In September the vets were recruited by Marwell Zimbabwe Trust (MZT) to help the Wildlife Veterinary Unit (WVU) with rhino dehorning and ear notching operations in Matopos National Park. This included escorting four white rhino on their long journeys to their new homes at Imire Game Park and Wilderness Safari Lodge at Hwange. Later in the month Lisa was fortunate enough to attend 3 days of a Rhino Monitoring Training Course at Lake Mutirikwi (Kyle), sponsored by WWF and Parks and Wildlife Management Authority (PWMA), and given by Richard Emslie and Keryn Adcock of the IUCN African Rhino Specialist Group. The course, which was extremely worthwhile, was designed to teach senior wildlife officers in Parks how to train their rangers in rhino monitoring protocols.
AWARE, in affiliation with the WVU and MZT, intends to assist PWMA by embarking on a white rhino ear notching, de-horning and monitoring programme at Lake Chivero National Park, and later at Kyle. Between 11 and 26 rhino are left in this park and it is critical that a proper audit is performed and the remaining rhino are protected. AWARE also intends to help with fence repair around the Park, and cleaning up the litter on the shoreline. We are looking for donations of game fencing as well as volunteers from Harare who would like to be involved in this.
Lion TB testing
October saw AWARE venturing into the blistering furnace of Gonarezhou National Park in a preliminary attempt to TB test the lion population, a project partially funded by ALERT. Since the discovery of bovine tuberculosis in buffalo in February this year in the park, it was decided that testing the lions was a priority to try and figure out how long the disease has been present – a clean lion population would indicate the disease is a relatively new occurrence. Rosemary Groom, of the African Wildlife Conservation Fund, had done a spoor count south of the Runde River in Gonarezhou earlier this year and had estimated that there are only 23 lion in the park (an area of 5000km2). We should have known then that it would be like looking for needles in a haystack. Reports from Parks' rangers indicate that the lions occur in ones and twos instead of prides, including females. To compound the issue, a lioness was allegedly shot in the surrounding communal land (by a farm resident) a few weeks prior to our arrival because of stock-theft. AWCF and Frankfurt Zoological Society (FZS) are interested from an ecological viewpoint as to why there are so few lion in the area, and decided to use the opportunity to put GPS collars on any lions that were immobilised.  
Rosemary met the AWARE team at Mabalauta with a tracker, and the parties searched for fresh spoor for 5 days without much luck. Calling and bait stations were set up at night next to the freshest (1-2 day old) spoor. The first calling station attracted a single hyaena and a civet in the four hours that the horn speakers belted out an MP3 of the agonising bellow of a dying buffalo. When the team couldn't bear the droning monotony any longer, the call was changed to a pig squeal. This prompted the elephants in the immediate vicinity to become extremely agitated and forced the station to be abandoned. The elephants are notorious for their bad tempers in Gonarezhou following years of persecution by humans.
 The next calling station yielded a glance at a shy singular lioness, who was being hounded by eight very aggressive hyaenas that wouldn't let her anywhere near the bait. It would have been too dangerous for her to be darted with so many hyaenas around, even if the vets had seen her for more than a couple of seconds. Having caught nothing but Giardiasis, and realising that this project is going to take much longer than originally planned, possibly with permanent staff on the ground, the team decided to go back to the drawing board.
Other news
In other news, AWARE has decided to take the plunge and set up its own 'voluntourism' initiative to hopefully sustainably fund its projects. At present, specific projects are being marketed and these will soon be published on our website. Funds raised through voluntourism are strictly not-for-profit and will go directly into funding project inputs. In time we hope to adapt our 'product' to suit market demands.
Thanks   
Meanwhile AWARE received its generous annual bolster from the excellent Debby Hart art exhibition hosted by Debbie Davies of Zimbrellas. Over $1300 was raised, for which we sincerely thank the 2 Debbies and members of the public who contributed. Many thanks also go to the following people who have generously supported us. I sincerely hope I have got all of you down.
Nadia Marabini, Mike Wedlock, Steve Vos, John and Leonie Cullen, Project Vets (Candy), Coopers (Ev Kock), Giulio Marabini, Hannah Dickerson, Natasha Klauss, Meryl Harrison, Sue Burr, Medi-Vet, ALERT, Vetpharm, Patrick O'Hara, Zoe van Zyl, Dave Bradshaw, Margaret Pyan, Jackie Cocksedge, Sarah English, Mrs Ager, Christina, Glenn, P. Coles, Ebrahim Nurubi, N. Keatley, Rosemary Groom, SPANA, MZT, CNRS, WVU, WWF and PWMA