January brings the opportunity to regroup and plot the most effective way forward for AWARE. A lot happened in 2011, the positives lending a sense of achievement whilst the negatives, at times making it difficult not to feel completely jaded with the conservation scene. Our energies were somewhat scattered as gaping deficiencies (such as the need for appropriate ranger training) became apparent and we felt we could not ignore this. We were also drawn into all sorts of arguments about wildlife politics particularly with regard to rhino management, captive bred lions and the use of dangerous drugs by lay people. We feel that as a veterinary conservation organization our future actions will be more productive if we focus on our core skill set (i.e. veterinary medicine and animal welfare) and streamline our activities in order to make more of a difference.
With that in mind, here's a quick reminder about the year that has passed and how we intend to revisit these issues in 2012:
Ranger Training:
In 2011 AWARE was issued a mandate by PWMA to facilitate Basic, Intermediate and Advanced Tracking and Anti-Poaching training courses for National Parks rangers in all rhino Intensive Protection Zones in the country. Tracking specialists Pete and Bryce Clemence, funded by SAVE Australia, ran the impressive courses for 117 rangers from Main Camp, Sinamatella, Matopos, Matusadona and Chipinge. Unfortunately one of the trainers developed a health issue which made it impossible to do any Advanced Courses in 2011, but he has since fully recovered and we hope that the men will receive their Advanced training in 2012.
Although we support this crucial element of saving our wildlife populations one hundred percent, we envisage playing a less active role, as the necessary links between the role players is now well established and no longer requires our facilitation.
Rhino Monitoring and Dehorning Projects:
2011 saw AWARE leading its first black rhino dehorning campaign in Matusadona, a project done in partnership with PWMA, SAVE Australia, and The Zambezi Society. The project ran smoothly, although sadly, less than half the expected numbers of rhino were found to be alive. This finding was confirmed by Pete Clemence's training course in the area, and re-iterated when LRT trackers went to search the IPZ later in the year. At least all the rhino there are currently dehorned, which reduces the reward to any potential poacher.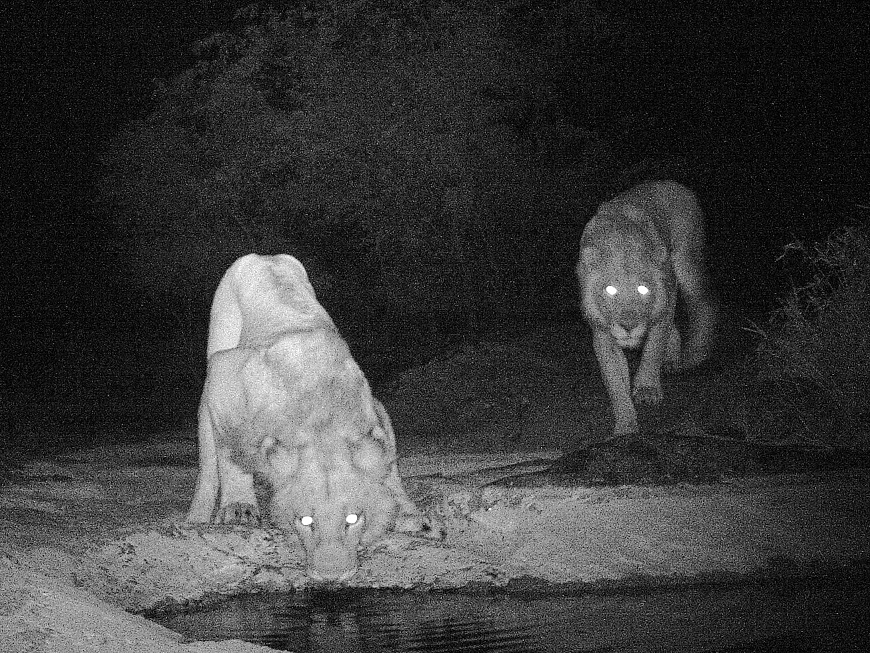 AWARE continued its rhino monitoring projects at Chivero and Chipinge by vehicle and foot patrol, and using camera traps. The camera trap footage has been extremely impressive and we believe we have caught 100% of the rhinos on film in a park with such difficult terrain that it would otherwise be very difficult to monitor these animals. We anticipate continuing these monitoring efforts and performing any strategic dehorning necessary this year as per PWMA's requirements.
Rehabilitation:
The numbers of injured wild and feral animals needing our help is steadily increasing, and our cases with photos are regularly posted onto our facebook page (http://www.facebook.com/#!/pages/Aware-Trust-Zimbabwe/208441509209247) so please visit and 'like' the page if you want to be kept updated.
There have been several cases where intensive nursing and monitoring could have potentially led to a better outcome for the animal concerned, so one of our main focal points for 2012 is to find the means to establish a rehabilitation/hospital facility so that the animals can receive a more complete treatment.
Donkeys: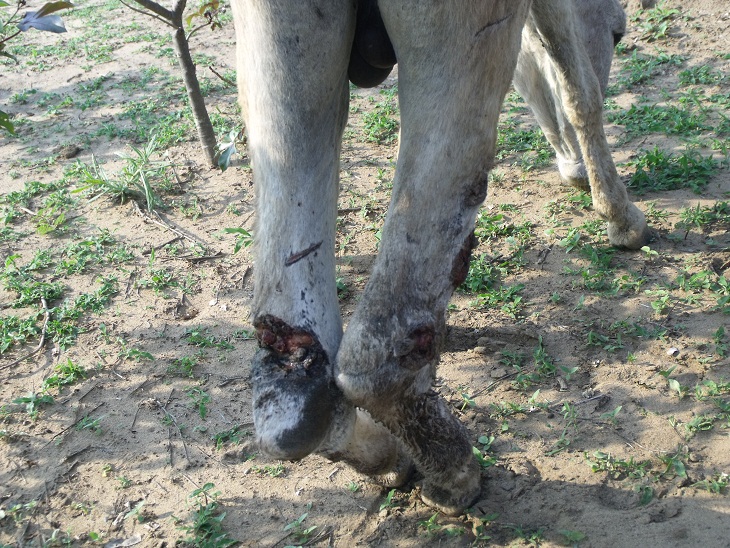 Our SPANA funded donkey project is perhaps the most positive (albeit least sexy!) of all our projects. AWARE vet Erick travelled 14 150km to treat 2169 donkeys in 2011 for conditions ranging from eye problems to snare removals to broken legs to cruelty cases for which he had to write affidavits to the police. We are sincerely grateful to SPANA for their continuing support, which now includes regular visits from SPANA vets to oversee the project.
After endless repairs to the last vehicle, 2012 will very gratefully see the arrival of a new project vehicle, a brand new Mazda BT50, donated by SPANA, as well as some more equipment for on-site diagnosis, which will make the programme more cost effective. We hope to extend the project range to include the Western half of the country in 2012.
Spay campaigns:
We managed to run 2 sterilisation and vaccination campaigns in 2011 – one in Kariba, and one in Ndlovu Communal Area near Victoria Falls. A total of 118 dogs and cats were safely sterilised during those 2 campaigns, and 653 were vaccinated, Frontlined and de-wormed. These campaigns continue to be unambiguously positive in terms of both improving the dogs' lives, as well as reducing risk of disease transmission and uncontrolled hunting in the adjacent wild animal populations.
In 2011 two collaborative opportunities developed with regard to disease surveillance in these dog populations. Two UZ Master's students were able to use our stored serum samples from the last 3 years to study the prevalence of Brucella canis and Leptospira icterohaemmorhagiae in the country. A connection to Professor Kelly of Ross University, St Kitts has also been established for further study of pathogens in these samples by the more sophisticated PCR technique.
In 2012 we hope to be able to run at least 4 campaigns, perhaps more if the money to buy vaccines becomes available.
Additionally if we are able to set up a central facility, we intend to pick up and return dogs from communal areas surrounding Harare in order to offer this service closer to home. Each campaign currently costs around $5000 to run in
remote areas.
Captive bred lions: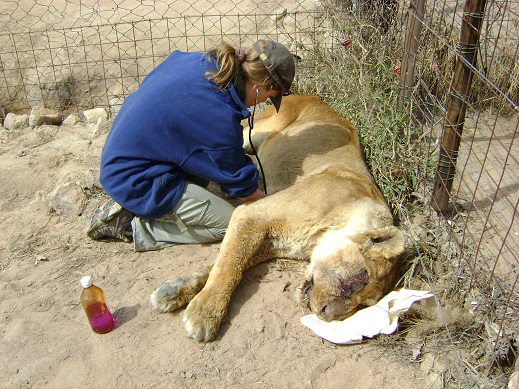 The impasse on ownership continues in the captive population of 44 lions in Masvingo. In 2011 we managed to get all the females implanted with contraceptives, and vaccinated and Frontlined. Two of the animals were moved to Bally Vaughan and one juvenile was translocated to Antelope Park. Two lioness - one with a facial tumour and one with a degenerative disorder - were euthanased for welfare reasons. Our water equipment and gates remain uninstalled, on site. The frustrations of Africa! We intend to push this issue once again, and get permission to re-implant contraceptive devices in the very near future, as they will soon be wearing off, at which point a full inspection of their welfare conditions will be undertaken.
Meanwhile Keith has been instrumental in setting down a new set of stringent regulations for the captive breeding of lions in
Zimbabwe, on behalf of the Captive Lion Breeding Task Force. It is hoped these regulations will be approved by PWMA in the very near future.
Animal welfare:
Lisa has also kept busy with the Animal Welfare Legislation Steering Committee which was set up by the government Department of Veterinary Services in 2009. Late in 2011 on behalf of the committee, Lisa was able to procure funding from the USAID-funded Zimbabwe Agricultural Competitiveness Programme, which will take the process of updating welfare legislation forward in 2012.
WEZ talk and appeal:
AWARE will be talking at the invitation of the Wildlife and Environment Society of Zimbabwe at Mukuvisi Woodlands at 1430 on Saturday January 28th 2012. Come along, and buy a T-shirt or join AWARE to support us. Membership still costs
only $10! All previous members please remember we can't operate without your support! You can deliver your subs in an envelope to 16 Southam Road, Greystone Park.
Thanks:
to those who remembered AWARE at Christmas:

Mike Burr and co, Nadia Marabini, Debby Hart and Debbie Davies, Project Vets, Silent Heroes, SPANA, Medi-Vet,
Our regulars Zoe, Dave, and Charlie
Belated thanks go to Vin Ramlaul and his staff at the 24 Hour Vet Hospital. When Vin and Elliott come on a sterilization
campaign with us, they give us their time and vehicle for free. The hospital personnel who are left then have to pick up extra shifts to compensate with all the attendant stress and expenses this causes. Good job, guys!

And finally, thanks to all those who have supported us throughout the year!