AWARE is delighted to have been nominated for the Zim Achievers Conservation Award. Please support us by going to this link http://www.zimachievers.com/vote.php – choose the "Special Category" Section and vote for us under the "Conservation Award". Results will be announced on 9 April 2011.
Since our appeal to supply water for the lions in Masvingo we have had a generous response which has enabled us to procure 1km of poly-pipe, a 5000l water tank, and a water meter, all of which are on site. Parks and Wildlife Management Authority (PWMA) have agreed in principle to join the pipes to their water system although there is an issue over who will pay for the water since the water comes from Zinwa. Although the trench is partially dug there is also red tape about getting approval from the Environmental Management Agency (EMA) for the trench. We have asked VAWZ to help resolve these issues. Meanwhile we have procured the steel for 10 sliding gates for the management pens, which Antelope Park is in the process of making for us at cost price. Lastly, the lone juvenile lioness has been translocated to Antelope Park to form a social group with animals her own age.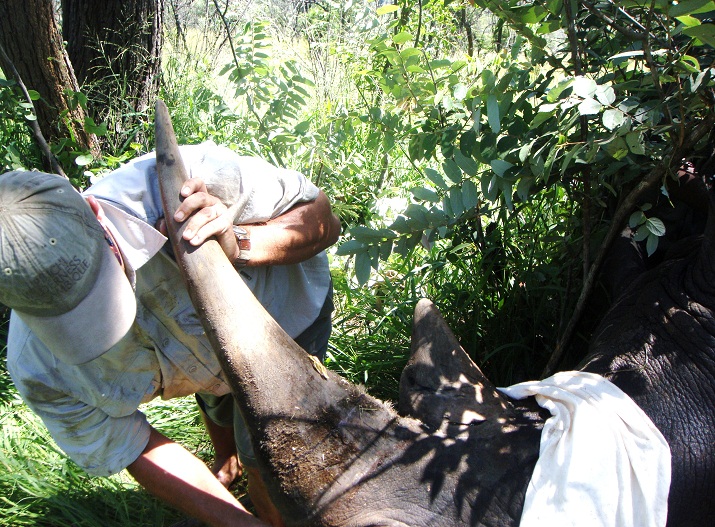 At the end of January, Keith, in conjunction with Dambari who took care of local logistics, was asked to treat an injured black rhino following a spate of poaching in the Matopos area. Unfortunately the animal disappeared from the sight of the rangers and could not be located from the helicopter. However, a large male white rhino named Swazi who escaped our dehorning efforts last year and was therefore a prominent target, was located and dehorned.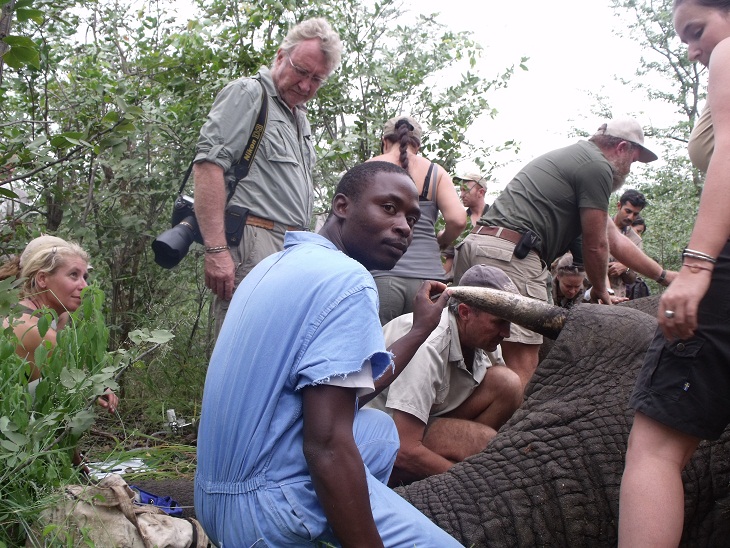 Erick attended and passed the Dangerous Drugs Course held at Malilangwe in February, so we are hoping he will gain alot more wildlife experience this year. He has continued with his donkey clinics treating 180 donkeys in January in the Nyaminyami district bordering Matusadona National Park, and 205 donkeys in Manicaland province in February. The clinics were the second of the kind in the area and they were received with an overwhelmingly positive response. There were fewer harness wounds indicating that the welfare education he is giving is sinking in. One of his cases was an eight month old donkey that had to be castrated in order to remove a large sarcoid from his scrotum. Erick is currently in the Chivi – Takaravasha area where he has already treated 280 donkeys in a 5 day period!
Pete Clemence's Tracking and Anti-Poaching Ranger Training Courses will kick off within the next week in rhino Intensive Protection Zones in National Parks. This is largely funded by Save Foundation, Australia. However we are appealing for further donations to adequately equip the rangers with binoculars, sleeping bags, water bottles, backpacks, GPS units and rations. If you can help, please contact us urgently.
We are also fundraising to perform comprehensive black rhino dehorning operations in an area with a small population of animals that was left out of the schedule last year. If you are interested in contributing towards this, please contact us as soon as possible.
We are sincerely indebted to the following for their monetary or in-kind donations or support:
Cindy Cahill
SAVE Foundation
Greg Budd
Instavet South Africa
Linda Davidson and the Kushanya Bike Race
Debbie Davies
Penny Havnar
Pamela Marabini
Sabrina and Michael Jenrich
Nancy Maxeiner
Gary Hart
Project Vets
Dave Scott
SWIFT Transport
Andrew Connolly
ZCTF
Anonymous donor from Chisi Vet
Leonie Herbst (Generator Services)
Zoe Van Zyl
Marian Hopley