The war on rhinos: Fighting back
August: The black rhino in Chipinge National Park became a source of grave concern for us when we discovered that they had lost close to half their population to poaching in the past 18 months. In a bid to stem the tide of the blood-letting, AWARE drew up 3 main objectives to assist PWMA in this area, namely anti-poaching training for rangers, dehorning all remaining rhino, and implementing a long term monitoring presence, possibly including horse mounted monitoring patrols.
An extremely fortunate chain of events transpired which led to PWMA granting AWARE permission to contract ex military Tracking Instructor Pete Clemence, and his son Bryce, to run the first of a series of Tracking and Anti-Poaching Training Courses for the rangers. The Basic Course is a 3 week long selection course designed to provide the basics of tracking, weapon handling, 'contact' training, map-work, and GPS use. Talented individuals are identified to proceed to Intermediate or Advanced Courses, with the objective being to finally establish an 'elite' unit capable of eliminating the threat of armed poachers.
The importance of this training cannot be overstated. These rangers are expected to put their lives on the line every day to defend rhino against armed poachers. Due to the lack of resources within PWMA, they go on extended patrols with very limited equipment, in many cases very little training, and they get no gratitude or acknowledgment from the world at large for what they do. So they were understandably a bit demoralised at the start of the course. They couldn't have been placed in better hands than Pete's. His unassuming exterior belies the potent knowledge he contains within. There is nothing this man does not know about survival in the African bush, and to watch him impart his bush-craft and tracking skills, in Shona, to a group of increasingly responsive young men and women was inspiring. During the 3 weeks he empowered the group of rangers to become an enthusiastic, confident, cohesive unit.
We will continue focusing on ranger training over the next year, and an Advanced Course will be starting in Chipinge imminently. Plans for the long term monitoring exercise are progressing, and we are pleased to report that all the remaining rhino in Chipinge were recently dehorned by another organisation.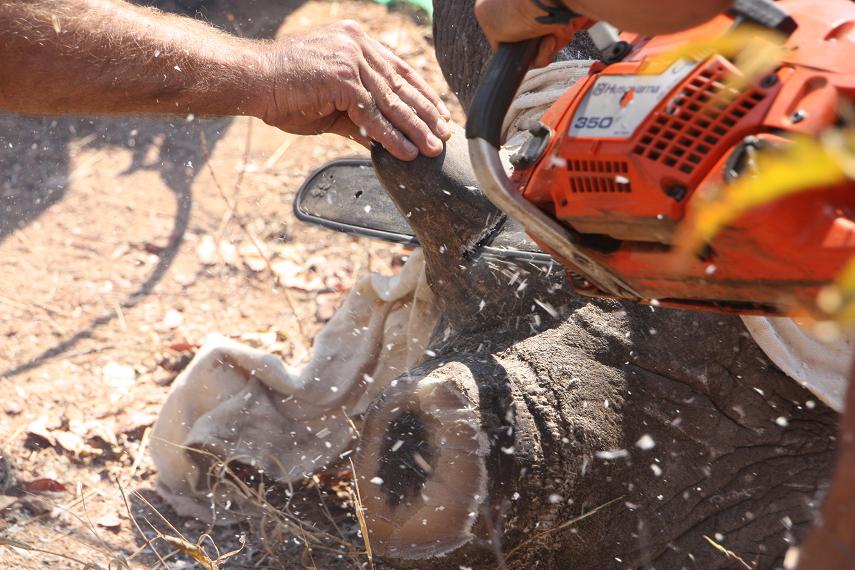 September: For three weeks in September, Keith and Lisa once again joined the Marwell Zimbabwe Trust team to comprehensively dehorn rhinos in Hwange and Matopos National Parks, bringing to 72 the number of rhino that MZT has dehorned this year. Several of the rhino that we dehorned had already had attempts on their lives as evidenced by the bullet holes in them, and we sincerely hope that the dehorning will thwart the poachers' efforts. Also of concern are the two new coal mines in the Deka Safari Area near Sinamatella, which are not only a complete eyesore but a potential threat to the prime black rhino habitat in the area.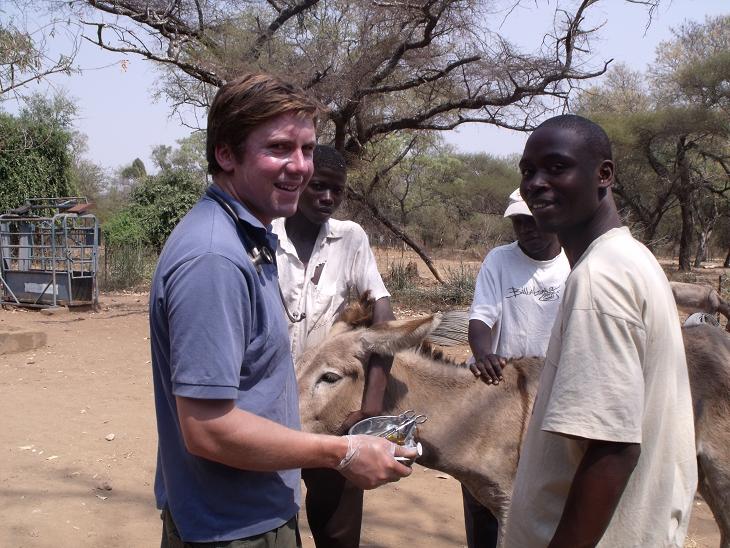 New boost for donkeys: September was a new beginning for Dr Eric Mutizhe, who we welcome to AWARE as a junior veterinarian. This development has effectively doubled the amount of vet work that AWARE can perform, particularly on domestic animals in communal areas, and we are sincerely grateful to SPANA for providing half his monthly salary. Eric was fortunate to have the company of Charlie Pinkham, an equine specialist veterinarian and volunteer, as he set out on his first ambulatory route to treat donkeys across the country.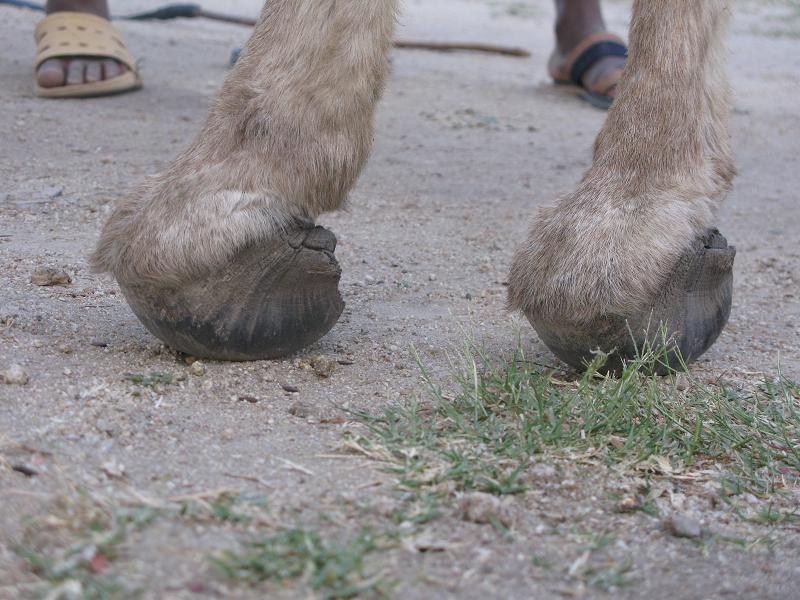 The pair visited the Chivi area in Masvingo, and the Mkoba areas of Gweru and Eric treated 108 donkeys for a variety of conditions, including hooves that were so severely overgrown the donkey was walking in the top of its hooves. The Kyle National Parks horses, whose condition has greatly improved on the rations we continue to supply, were also dipped and de-wormed and vaccinated for tetanus and rabies as standard.
Whilst on rhino ops we were visited by a group of veterinarians attached to SAVE Australia, who very kindly brought out 150 Suprelorin Contraceptive Implants for lions, which we shortly hope to put to use at a certain captive lion centre where the breeding has got out of control. These vets accompanied Keith, Lisa and Eric to the Lion and Cheetah Park where 8 of their lionesses were also immobilised and implanted.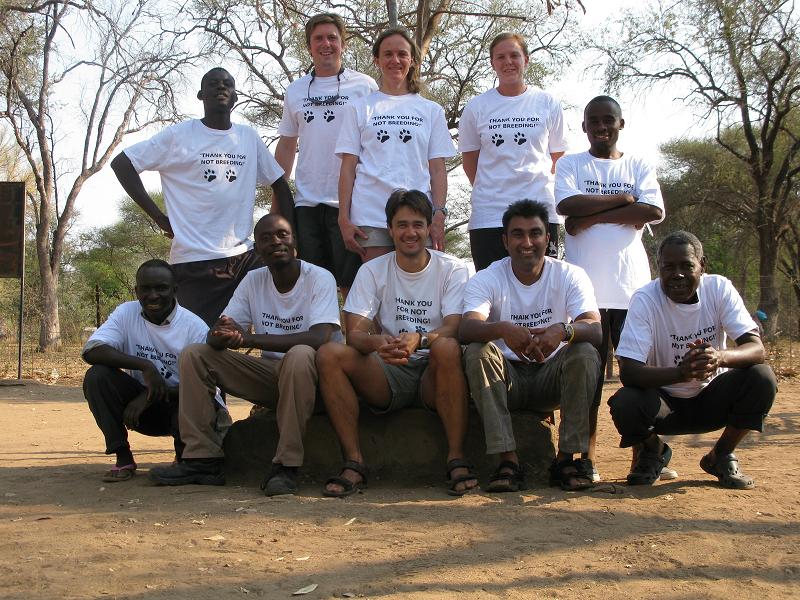 October: Malapati Sterilisation Campaign: On October 3rd , the AWARE sterilisation team comprising Lisa, Keith, Vin, Eric, Elliot, Kenny, Charlie and Ashley-Kate Davidson, set forth to Malapati Communal Area which is adjacent to the southern entrance of Gonarezhou National Park. We camped at the Malapati Animal Health Centre which is a stone's throw from the Mwenezi River, and 'the home of malaria' according to the Veterinary Livestock Technician, Mhere. The relative shade of the riverine vegetation made the heat bearable, although we were tested on one particular day when it reached 43˚C in the shade, and a number of wild birds actually succumbed to heat stress.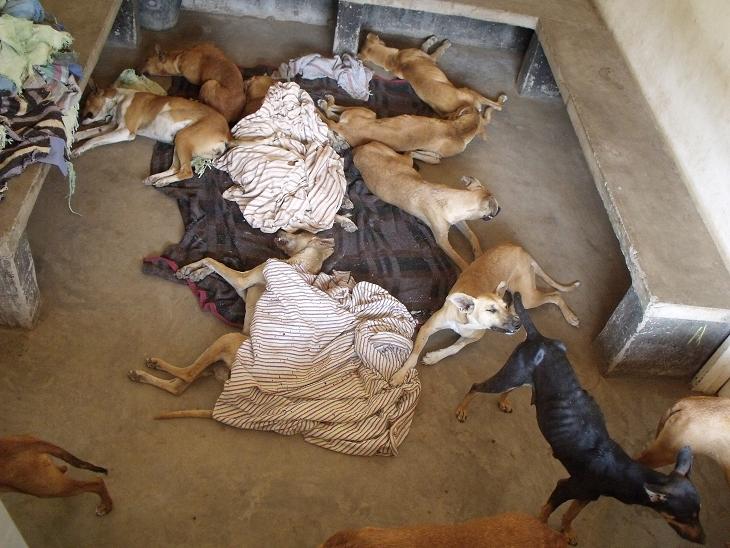 Over the course of the ten day programme we successfully sterilised 68 dogs and 7 cats. The Vet Department's official dog census figure for the Malapati Dip is 130 dogs so sterilising more than half of them will undoubtedly have a positive impact on the area. We vaccinated 305 dogs in Malapati, Maose and Muhlekwani for 7n1 and rabies, as well as providing the usual de-worming and Frontline treatments. Operated dogs went home with dog food and vaccination booklets, and were returned for their 72 hour check-up when their owners were given a T-shirt. The dogs with the worst leads (wire or such like) were given donated metal choke chains and leads.
As usual, TVT (transmissible venereal tumour) was plentiful, and several of the dogs seen appeared to have post viral neuropathies in the form of tremors, possibly from an earlier distemper infection. We also saw a case of suspected rabies which was euthanased and the brain sent to Harare for confirmation of diagnosis. This is particularly worrying as we saw painted dogs in Gonarezhou less than 10km from this case. Painted dogs are very susceptible to rabies and an entire pack was wiped out from the disease in Save Valley Conservancy less than 3 months ago. We were also horrified to learn that none of the veterinary staff had had any rabies inoculations due to a 'lack of resources'. Rabies cases occur fairly regularly in this area and the staff are expected to bury any rabid corpses (or send samples if transport is available to Harare). There is also no humane way of euthanasing dogs suspected of having rabies, as there is no vet permanently stationed in the area, and no-one with a gun licence. We were told by a member of the community that a dog suspected of having rabies is stoned to death by the community if there is no vet in the vicinity.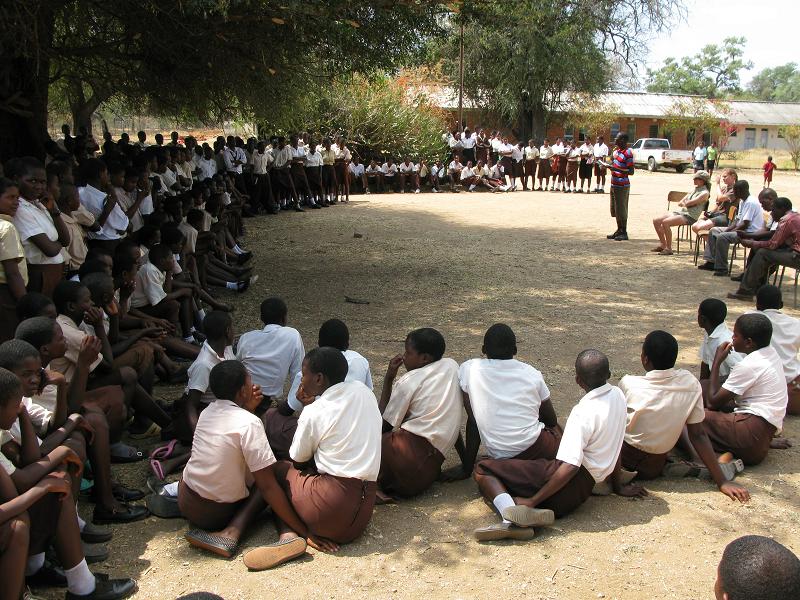 As part of our educational programme we visited Malapati Secondary School, where the children were given a lecture on animal welfare and conservation by Eric and Ashley-Kate.
Eric also treated 99 donkeys in this area, including a case of tetanus in which the donkey's jaws were clamped shut - 'lockjaw' -, and a donkey with a broken leg which had to be euthanased.
Eric has since proceeded to the Save Valley Conservancy and its surrounding communal lands where he has been tasked by Rosemary Groom to vaccinate 750 dogs (250 for 7n1 and rabies and 500 for just rabies alone). This vaccine is being funded by the African Wildlife Conservation Fund.
Search for lions in Gonarezhou continues: After the sterilisation exercise, we proceeded into Gonarezhou National Park to look for the lions that eluded us last year, in order to test them for bovine tuberculosis. Having spoken to Rosemary, who did 27 call-ups in the south of the Park earlier this year without seeing a single lion, our expectations were not high. So we were very excited to see fresh spoor on our first morning in the Park, and even more so when we heard the lions roaring that night close to Swimuwini. Unfortunately there was a miscommunication with Frankfurt Zoological Society, whose call up equipment we were borrowing, and the equipment did not arrive until 2 days later, so even though we had a bait (the carcass of the donkey with the broken leg) we had no means of calling the lions in. We located fresh spoor again on the second morning, but then the lions disappeared into an inaccessible area and we never saw them again. We intend to return to Gonarezhou in December to continue the search and try to establish why the lions seem to have disappeared from this Park.
Thanks: Certain individuals have made incredibly generous donations, and we are honoured to accept them to put to good use:
Cavan and Michael Warren – a state of the art portable Xray machine from the USA,
Cindy Cahill - $10 000,
African Encounter - $ 2 000,
Peter and Margo Lloyd - $1 000,
Nadia Marabini - $500
Raffle ticket sellers (our raffle raised $3 170): Arundel School, Highlands Vet, Chisipite Vet, 24 Hour Vet, Borrowdale Lane Vet, Vetpharm, Kelly Hendrikz, Chisi I Care, Avondale I Care, Chris Hair Studio, Mandy Nightingale, Ant Mackintosh, Lou Fraser, Mrs Dutlow, Dr Ross, Ashleigh Erlank, Christopher Scott, Candace Dawe, and prize providers mentioned in the last newsletter. Prize-winners were: Dr Ghebremeskel, Dr Nancy Jonker, Michael Mutasa, Dr M. Samkange, Dr Arnie Ross, Mrs D. Field, Val Dempster, Mr Makoni, Mr Ndudzo.
Through Save Australia: Dr Alan Taylor – anaesthetic machine, Dr Vicki Onus and David Jones –Consumables, Dr Paul Schober and Dr Katie Yeates and Peptech Australia – Suprelorin Contraceptive implants
SAVE for binoculars and GPS unit
Pam Marabini – food for National Parks horses, food for AWARE personnel
Zayne Acutt – 100 Tshirts for the spay campaign
Heather Israel – battery voucher
Brent Lees-May (Zimbabwe Bio-Energy) for supplying carcasses for lion bait
All new members
Vin and Elliot for their persistent surgical excellence
Charlie Pinkham – a lot of donkey help! – and Fowler's latest wildlife textbook
Ashley Kate Davidson – help on the sterilisation campaign, lion project and educational programme
Jayne Godfrey – help with fundraising
SPANA
PWMA for their co-operation
Department of Vet Services (Dr John Makwangudze)
Marwell Zimbabwe Trust
Chisipite Veterinary Surgery for loan of 2 surgical packs
Michelle Fuller – food hamper for raffle
Catherine Easterbrook and Tung
Zoe Van Zyl
Ruth Verhey
Apologies if we have left you out – this is not intentional and is due to lack of admin staff. Please let us know!