Our second quarter newsletter is behind schedule again…. this is rapidly becoming a predictable state of affairs. Our latest excuse is that it has taken some time to learn the ropes on our new Mailchimp system of newsletter delivery, which includes having to master our new website content management system. Simple stuff to you first-worlders out there, but high-tech enough to flummox the most computer literate of Zimbabweans. Katrin Kerber, our website designer, made the task a whole lot easier by going above and beyond the call of duty and sending through instructional videos. We're very excited to finally have our site up and running – for those of you who haven't yet checked it out, it's well worth a visit at www.awaretrust.org.  Thank you so much Kat, and Animals Worldwide who sponsored the production of the site.
Spay campaign
Our main activity this quarter (our groundbreaking Maramani sterilisation campaign) was comprehensively covered in the May 'newsflash'. This generated quite a lot of interest and we have been inundated with calls to run similar programmes in other areas. Several international veterinary institutions have expressed an interest in sending out veterinary students to assist us. A few people have contributed towards the next spay campaign, which is planned for Machuchuta (adjacent to Maramani) in November this year, but there is still a large budget deficit.  We believe that, with funding to hold consistent campaigns and train up competent local veterinary surgeons, we can really make a positive impact on the canine populations living below the poverty line in Zimbabwe.
Donkey clinics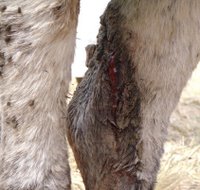 AWARE conducted two SPANA funded donkey clinics in lower Gweru in late April and late June, together with the Gweru SPCA manager. The first clinic got off to a slow start due to a breakdown in communications between the SPCA and the Mkoba town councillor, resulting in a lack of advertising for the campaign. AWARE vets, accompanied by volunteer helper Anton Newall, had to drive around searching for patients, although in the end 22 donkeys were treated for a variety of conditions. As we had dreaded, 2 of these poor creatures had been axed for being caught 'stealing' peoples' vegetables. The one donkey was so bad he had to be anaesthetised to clean up the deep wound to his 'Achilles' tendon which was too painful to be treated under local anaesthetic. Healthy donkeys were vaccinated for rabies and de-wormed. Donkey owners were given AWARE stock cards with the donkeys' medical histories, and children were given educational booklets to promote compassion for donkeys.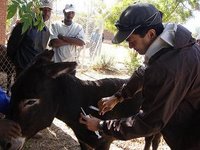 The second clinic was well advertised by posters and word of mouth, and 45 donkeys awaited our arrival on the day. Many of the requests were for the 'muti' which gave the donkeys 'ZESA' last time (presumably the de-wormer). For the benefit of foreigners, the word ZESA stands for the (notorious) Zimbabwe Electricity Supply Authority, and has come to be synonymous with the word 'power'. Ironically the rest of us are suffering with no ZESA at least four days out of seven this winter. Pity that can't be sorted with one easy dose!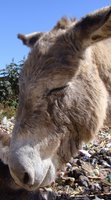 The majority of veterinary conditions on the second clinic were eye problems, which relieved us of eight tubes of eye ointment. We found this particularly irritating as we had gone to great lengths to import these pricey ointments, and the inciting factor in most of these eye injuries was whip-induced trauma. Fortunately the axe cruelty seemed to have temporarily abated, although the SPCA officer thought that this was because of winter, i.e. no vegetables growing. The axe wound patients from the first clinic returned for their check ups - the donkey that had been anaesthetised had healed perfectly; the second donkey however, which had been slashed on its rump, had an abscessated tract further down its thigh. This was thoroughly cleaned up making adequate drainage, and treated aggressively with antibiotics. A third donkey was examined for a non-healing (year's duration) axe wound in the sacral spine area. On exploration of the wound, we discovered a small dead piece of bone, (a 'sequestrum' in veterinary speak) which must have fractured off the spine when the axe made contact, and prevented the wound from closing up. One thing's certain - I wouldn't want to come back as a donkey in Mkoba township.
It was interesting to note the completely different attitude to the donkeys in Maramani communal land, where we also ended up treating a few hoof problems but came across zero cruelty. In a true rural setting they are more integrated into everyday life and therefore have more value. Several requests for castration of donkeys were made (to stop them fighting) which we will plan to include on our next sterilisation campaign.
Leopard in suburbs
April saw AWARE collaborating with Johnny and Shayne Rodrigues of ZCTF and Sarah Carter of Bally Vaughan on how best to trap a leopard that appeared to have killed and eaten a Boerbul dog in a Borrowdale Brooke residence in Harare's northern suburbs. AWARE vets examined the scene where this large dog's carcass had been dragged about 40 metres and dismembered. AWARE was issued a permit by PWMA to trap and transport this leopard to Mana Pools. However, after 2 or 3 initial sightings this creature has not been seen again.
Lions get new homes
Two lone captive bred lionesses – one at Imire Game Park and one at Bally Vaughan Animal Sanctuary received companions when AWARE vets immobilised and escorted the lions from Antelope Park (who donated them) in May. 'Poppy', the spayed lioness at Imire had lost her mate in January this year when he died of natural causes. She was over the moon to meet 'Teddy', arguably the best looking lion in Zimbabwe, who has settled down well with her in his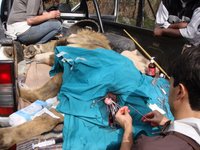 new enclosure. 'Kadiki', who has been alone at Bally Vaughan for many years, is still being a bit of a princess and is not allowing 'Nduna' within one metre of her. Good-natured Nduna, who was vasectomised by AWARE vets shortly after his arrival at Bally Vaughan, seems to have more luck getting affection from Kylie, the lion-loving hyaena in the next door enclosure. We do think that Kadiki will come round, especially when Nduna gets bigger than her and starts to put on a mane. Had we castrated him, Nduna would never have grown a mane, which is why we opted for a vasectomy.
Future plans
AWARE, in conjunction with NSPCA, would now like to raise funds for the sterilisation or contraception of captive lions that are at the centre of welfare concerns in Zimbabwe. AWARE does not condone captive lion breeding without a genuine release programme, especially in resource-limited establishments where the lion population overtakes the food supply resulting in some of these animals being in very poor condition. If you would like to sponsor this cause please contact lisa@awaretrust.org. We are also planning on testing the lion population in Gonarezhou for bovine tuberculosis, since its detection in buffalo earlier this year could spell disaster for the felids.
Thanks
Sincere thanks to the following for their help or donations in cash or kind:
SPANA
Bernie Stevens
Dieter Balzer (KDB)
Mr and Mrs Simleit
Ian Juuren
Debbie Whyte
Val Annandale
Sue Burr and Cactus Advertising, Design and Print
Dave Bradshaw and Zoe Van Zyl
Meryl Harrison
Lorraine Houghton
Mrs Gardner
Mr and Mrs Hiscock
Mrs Michalek
Michael Ellis
Lyn (sorry Lyn, don't know your last name!)