It's been a year since I wrote the last AWARE newsletter. We've posted many of our updates on Facebook but for those of you that don't use Facebook, I apologise for the lack of communication in the interim. At the time of last writing things were looking pretty bleak for AWARE's continued sustainability. The end of November last year also saw the departure of our beloved dog Matsumi, after a 9 month degenerative illness. She was our best friend, having gifted Keith and me with 15¹/₂ years of unparalleled joy and devotion, and coming to terms with this devastating loss contributed to a huge sense of despondency and disillusionment in our lives. Fortunately for AWARE, at about that time Tracey Hugill joined the team as a fundraiser, and this year she has really pulled the organization through its darkest hours into the light of what promises to be a very bright future. Tracey gave up her own corporate career to follow her heart and give something back to the wildlife of Zimbabwe, and we are extremely lucky to have found someone so passionate about the cause. She works tirelessly harassing corporate and individual sponsors, and putting on spectacular events, such as the Rhino AWAREness Day at Raintree Lodge, a Rhino Golf Day at Borrowdale Brooke Golf Club, and latterly we had the privilege of being able to run and mountain bike with rhinos at Lake Chivero in a sporting event to commemorate World Rhino Day in partnership with PWMA.
Donkey Clinics: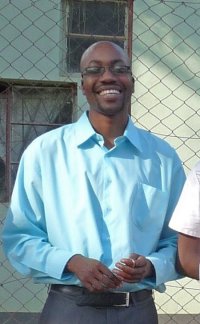 In another stroke of good fortune for AWARE and for Zimbabwe's donkeys, SPANA (The Society for the Protection of Animals Abroad) – who has repeatedly evaluated our donkey clinics by sending out several of their own donkey specialist vets – pledged continued support to the donkey programme for a minimum of 5 years. They have taken the decision to make Zimbabwe a 'SPANA core country' through AWARE, and expand the area covered in Zimbabwe by hiring a second veterinarian to perform additional donkey clinics. And so we welcome Dr Andy Garura to the team, and wish him a long and successful position at AWARE.Andy and Erick travelled to Ethiopia earlier this month to attend SPANA's regional Continuing Education meeting to keep abreast of the latest techniques in donkey medicine.
SPANA intends to start up a working animal welfare education programme, from school children all the way up to vets and animal health inspectors in partnership with the Vet Department, the University of Zimbabwe (UZ) and certain technical colleges. The SPANA Education Director Diana Hulme recently came to Zimbabwe to engage with our Ministry of Education officials. In the pipeline for next year is also a very exciting animal welfare community development scheme. Meanwhile Erick is keeping up the good work and has treated 3008 donkeys so far this year, with a host of different disease conditions. Pictures of the clinics can be found on our facebook page: https://www.facebook.com/pages/Aware-Trust-Zimbabwe/208441509209247.
Rhinos: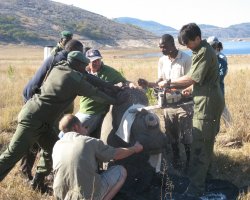 AWARE has continued its monitoring and re-dehorning activities in partnership with 3 of Zimbabwe's National Parks. We firmly believe that comprehensive dehorning in these 3 areas is contributing to keeping these rhino populations alive. Six white rhino were re-dehorned as they had last been done in 2010, and one was ear notched for identification purposes. We have had to postpone a second dehorning exercise due to the lack of availability of a helicopter within the suitable cool weather time frame. In May, we welcomed the birth of a little white rhino male, a calf for Katrina at Chivero. The camera trap study is still ongoing and the game in the study area appears to be increasing thanks to good Area Management – we even managed to catch a brown hyaena on camera! We have also provided logistical support in some of these areas, such as the purchase of a new water tank, pipes, and through donations have supplied toys and educational computers to the National Parks schools in these areas.
Captive Lions: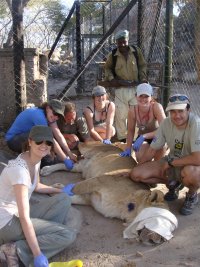 AWARE does not support the breeding of lions in captivity. In July this year, AWARE re-contracepted all the female captive lionesses at the property in Masvingo. Despite the fact that last year we decided to suspend further free treatment at this facility, we could not stand the thought of more cubs being born, so we were extremely grateful when Virbac (Australia) donated more contraceptive implants. With the fences in disrepair, a male lion had gone on a killing spree and had killed several lionesses. One lioness had escaped and was killing goats on the adjacent property. We spent a night parked next to a village kraal waiting on one of the goat carcasses as bait to try and lure her back so we could dart her and replace her in the enclosures. She did not show up that night and sadly, the following night, due to pressure from the community, a professional hunter was called in to shoot her before we could take up our positions. The next morning the killer male had slain another female. We were asked by one of the stakeholders to euthanase him, but we could not get permission from all the stakeholders at the time. Allegedly this male has since been put down.
We also contracepted 10 lionesses at Chipangali Wildlife Sanctuary at the cost price of the immobilization drugs, and another 6 at Lion and Cheetah Park, as well as vasectomising 2 males at the latter.
Capacity Building: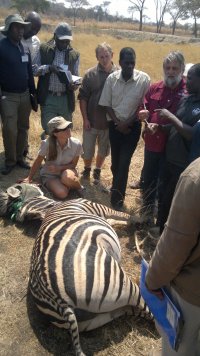 Having attended the Malilangwe Drugs Course in February 2013 (a legal requirement for keeping valid Dangerous Drugs Licences), Keith and I felt that this Continuing Education should be financially accessible for all veterinarians working in the field in Zimbabwe. So it was an opportunity when Dr Norman Mukarati from the University of Zimbabwe approached us and asked us to partner with him and the Wildlife Veterinary Unit in organizing a modestly priced wildlife course specifically targeting working vets in the country. In addition to training in the chemical and physical immobilisation of wildlife, the 23 vets who attended (which included vets from Botswana and Zambia) had 2 days of wildlife disease lectures, and in-depth legislation and welfare lectures. AWARE facilitated the lecturing by esteemed wildlife veterinarians Dr Roy Bengis and Dr Cobus Raath. Dr Roy Bengis worked as the Chief State Vet in Kruger National Park for over forty years, and has won numerous awards for his contributions to the veterinary profession. Dr Cobus Raath was the head vet of Kruger's capture team for over 10 years. He now owns Wildlife Pharmaceuticals, a company which develops drugs used in game capture, as well as his own wildlife consulting company. He runs similar courses in South Africa and has trained over 1000 vets from 120 different countries. Wildlife Pharmaceuticals co-sponsored the course, and we are extremely grateful to them. We are also grateful to the Lion and Cheetah Park who hosted the practical sessions. We look forward to making this successful course an annual event.
In July we hosted 6 very enthusiastic veterinary students from the UK and USA who had come to learn about wildlife work (and donkey work) on 2 and 3 week veterinary placements. UZ fifth year veterinary students have meanwhile been accompanying Erick on some of his donkey clinics to get some much needed equine experience in.
Research: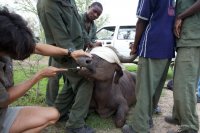 In December 2012, AWARE Trust won a SADC Transboundary Animal Disease (TAD) Programme tender to perform disease surveillance in buffalo in Mana Pools (which is part of the Mana Pools- Lower Zambezi Trans Frontier Conservation Area), as well as in cattle in the adjacent communal area. The buffalo were mass captured in a boma and 26 were safely sampled for foot and mouth disease, trypanosomiasis, and bovine tuberculosis. The results are not yet available but are expected to provide guidance for policy makers in the region.
Rehabilitation:
There has been the usual trickle of rehab cases. A bushpig that ran into Harare suburbs and was under attack from a group of local residents was darted and trans-located to a nearby game park. An elephant in Kariba that had a deep penetrating wound on his left hind leg was immobilized and X-rayed – a small piece of wood was removed from the wound, and he was treated with antibiotics after determining there was no fracture. On a second trip to Kariba at the request of KAWFT, we were after a young male elephant with a terrible snare wound of about 4 years duration. (He has been treated twice by other people, but it looks as though there is still some wire left in the leg, and at the very least it needs to be X-rayed). Cavan located a maternal herd shortly after dawn, and adrenaline was on a high as Keith and Andries crept through the thick jesse after the agitated females in order to put a dart in. Unfortunately we realized we were following the wrong herd and after spending a further futile 2 days there searching for the right herd, we returned to Harare and are still waiting for him to be sighted again. Anton meanwhile rescued yet another 2 stray zebras at separate times - one from Mufakose and one from the main Bulawayo Road. A male ostrich at Mukuvisi Woodlands received treatment for a deep laceration in his neck, which had opened up his oesophagus allowing food to fall through his neck when he ate. A duiker that was attacked by dogs had to be euthanased as she had sustained severe ligament damage and fractures to both hind limbs. Her tiny orphaned fawn Bella is now growing up at Wild is Life.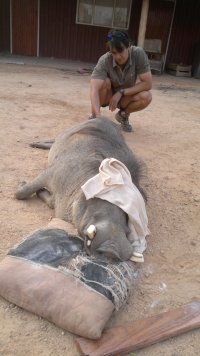 I don't normally mention private work in AWARE's newsletters but we had an interesting case at Pamuzinda, where Spike, an increasingly aggressive resident warthog faced the death penalty for killing the owner's dog, and being a potential danger to people – unless we could trim his tusks to a size where he could not do any damage. Fortunately, we were able to Xray his tusks to see exactly where the pulp cavity ended, and trimmed off his ivory just beyond that, thus buying him a few more years of sleeping by the fire in the lodge's restaurant.
Environment:
We have become increasingly alarmed about the appalling air quality in the last few months, not only in Harare, but countrywide as Zimbabweans appear to have become a nation of pyromaniacs. We have good environmental laws in place, and in fact setting veld fires was criminalized earlier this year, but enforcement is poor. Every second garden regularly sends up a massive bonfire causing a thick layer of particulate matter which hangs over Harare, which together with generator fumes from the 15 hour power cuts which have plagued us since the elections, are causing a host of respiratory problems. Lisa was invited to do a presentation for the City of Harare Waste Management Meeting on the health risks associated with burning organic matter and leaves. Following this we have been tasked by some members of the public to set up an environmental branch of AWARE to be more pro-active in environmental issues. We started by printing out 1000 pamphlets in English and Shona about the health hazards of burning and distributed this to households in Harare's suburbs. We made these pamphlets available in electronic form to the general public and other organizations. We are currently looking for the funding to purchase an air quality (particulate matter) reader so that we can start issuing daily air quality reports and warning the public when exercising outdoors, etc. is hazardous. We also intend to engage the police, EMA and other authorities to set up a bike-mounted patrol to fine burners and polluters within the city limits.
Thanks:
Our support base has really picked up thanks to Tracey's hard work, and we hugely appreciate the fact that the Zimbabwean (and international) public is willing to do so much for conservation. Space constraints in this letter mean that I will publish a list of supporters shortly on our facebook page, but you know who you are – THANK YOU!!!!
Please support the Debby Hart exhibition this Friday – the door proceeds are going to AWARE!